Are you spiritually dry? Need to recharge? Looking for meaning or purpose in life? Are you looking for deeper Christian friendship and fellowship? Then Mount Carmel's August Camps for Adults of All Ages are perfect for you!
Be strengthened in your faith through high-quality Bible study and stimulating conversation with your peers. In the evenings, Mount Carmel offers worship services with quality preaching from guest preachers and music led by our very own gifted musician, Patsy Baglien. In the afternoons you'll enjoy all the fun of camp: pontoon rides, campfire, board games, and a talent show.
We offer a variety of housing options from air conditioned lodge rooms to quaint cottage cabins overlooking the lake. All have their own private bathroom and comfortable beds.
Camps for Adults of All Ages typically run from Monday afternoon through Friday mornings. 
Experience uplifting concerts and silly talent shows. Visit the local winery or go shopping downtown with friends. Play some golf, soak up some sun on the beach, or go on a pontoon adventure around Lake Carlos. Make new friends or renew old ones. Commune with God, nature, and with one another in this mountain top experience, all in the name of Jesus Christ!
August 14-17
Guest Speaker: Bror Erickson

Bror Erickson currently serves as pastor of Zion Evangelical Church in Farmington, New Mexico, where he resides with his wife, Laura. He graduated from Concordia Theological Seminary in 2004. He has translated numerous books and articles by Bo Giertz and has contributed to the scholarship surrounding this theologian, often thought of as the "C.S. Lewis of Sweden." His translations of Bo Giertz include, "To Live with Christ," "With My Own Eyes," and "Romans, a Devotional Commentary."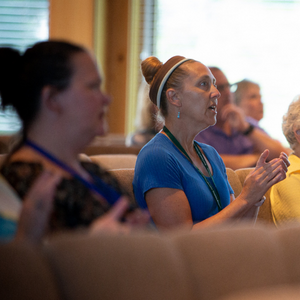 August 21-25 // Light for Daily Living from Luther
Guest Speaker: Mark Mattes, Guest Preacher: Mark Granquist
We will take a fresh look at the legacy of Martin Luther to harvest his insights for our faith journeys and how it equips us both to engage and appreciate our world.  Christians of all backgrounds, not just Lutherans, are invited to participate. You will learn more about who you are in Christ and how Christ's everlasting light brings hope and joy to this world.
September 8-11 // Hymn Festival
Guest Speaker: Gracia Grindal
Come and sing and learn about the great hymns of the church! Gracia Grindal is a retired seminary professor and an expert in hymnody. This week Gracia will dive into the richness of the hymns and how God works through them.
To register, email us at registrar@mountcarmelministries.com or call our office at (320) 846-2744.