Are you spiritually dry? Need to recharge? Looking for meaning or purpose in life? Are you looking for deeper Christian friendship and fellowship? Then Mount Carmel's August Camps for Adults of All Ages are perfect for you!
Be strengthened in your faith through high-quality Bible study and stimulating conversation with your peers. In the evenings, Mount Carmel offers worship services with quality preaching from guest preachers and music led by our very own gifted musician, Patsy Baglien. In the afternoons you'll enjoy all the fun of camp: pontoon rides, campfire, board games, and a talent show.
We offer a variety of housing options from air conditioned lodge rooms to quaint cottage cabins overlooking the lake. All have their own private bathroom and comfortable beds.
Camps for Adults of All Ages typically run from Monday afternoon through Thursday mornings. 
Experience uplifting concerts and silly talent shows. Visit the local winery or go shopping downtown with friends. Play some golf, soak up some sun on the beach, or go on a pontoon adventure around Lake Carlos. Make new friends or renew old ones. Commune with God, nature, and with one another in this mountain top experience, all in the name of Jesus Christ!
August 15-19 // In Christ a New Creation
Guest Speaker: John Rasmussen, Guest Preacher: Mark Jamison
Christ has invaded your life! In Christ you are a New Creation! As Paul says, "You were buried…with him by baptism into death, so that as Christ was raised from the dead…, you too might walk in newness of life" (Rom 6:4). Jesus says, "Truly, truly, I say to you, unless one is born of water and the Spirit, he cannot enter the Kingdom of God" (John 3:5). To say that you are a New Creation in Christ is to say, "I have been buried and raised with him"; "I have been born again of water and the Spirit;" "I am baptized;" "I am his New Creation!" Join us at Mount Carmel on August 14-19 as we explore these themes and rejoice in the Good News together.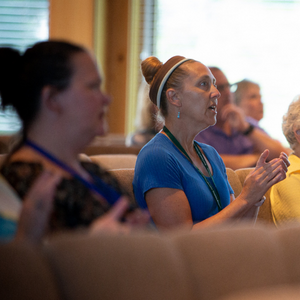 August 22-26 // All Things New: A Study of 2 Corinthians 4 and 5
Guest Speaker: Wayne Pederson, Guest Preacher: Todd Olson
Tired of "Same old, same old"? Daily living gets old. God promised to make "all things new.' New hope, new future, new relationships, new mission. Join us in this study of 2 Corinthians 4 & 5 and see what new things God has for you. Wayne Pederson is president of Reach Beyond, an international ministry using media, health care and leadership development to reach those who have never heard the Gospel. Prior to Reach Beyond, Wayne served as vice president for Radio at Moody in Chicago. Wayne spent most of his ministry career at Northwestern Radio in Minneapolis: From 1997-2002 as executive vice president for radio; executive director of SkyLight Network from 1994-1997 and manager of KTIS AM-FM from 1980-1994.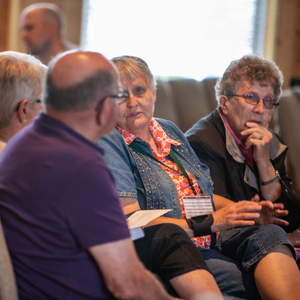 August 27-30 // New Creations in an Old World
Guest Speaker: Dan van Voorhis
Dr. Daniel van Voorhis is a 1517 speaker and podcast host of the Daily Christian Almanac. He is a professor, author and speaker who has not only written extensively on history and theology, but has also spent the past decade speaking with addicts, survivors of suicide attempts, and those with debilitating depression. Dan speaks to how the Gospel transforms everything. This week Dr. van Voorhis will be doing some historical storytelling about Christian revival in the individual, church and society.
September 9-14 // Hymn Festival
Guest Speaker: Gracia Grindal, Musician: Tim Peterson
Come and sing and learn about the great hymns of the church! Gracia Grindal is a retired seminary professor and an expert in hymnody. This week Gracia will dive into the richness of the hymns and how God works through them.